Mediaphormedia is pleased to announce the release of Ellington Groups! This application allows users to create and maintain topic-based forums with other site users. Users can start groups for any topic, create posts for discussion, and also discuss posts from other public users.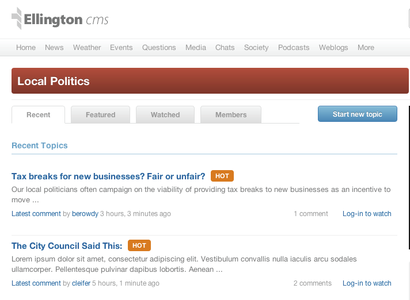 Groups highlights include:
-Group creation
-Following functionality for interested users
-Featured topics
-Threaded Commenting on topics
-Management of the "group" object including a title, description, and limited color changes.
Groups are 100% user generated and moderated. In Addition, these posts and comments are regulated through Ellington's comment moderation tools.
Visit the Ellington CMS Support Site for further details.