Create a custom website with a unique design and domain name in a matter of minutes that automatically displays business content already posted on Marketplace. Select from professionally designed themes or customize the site with easy to use editing tools. Business Hosting options are part of Marketplace Package features. Marketplace account managers can create custom packages that include the hosting options. Once the package is selected, business owners can begin building their website.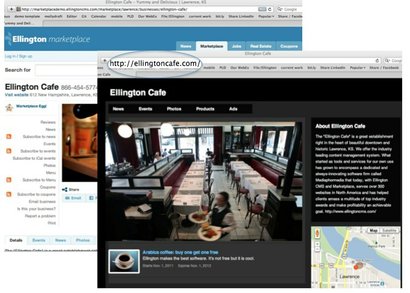 Post once; publish everywhere. The Business Hosting addition will allow business owners to publish content to the Marketplace business profile, which immediately updates the custom website. Add a coupon to Marketplace and it is accessible on the Marketplace Directory, Marketplace Mobile, selected Social Networks, and the Business Website.
For more information, please review the detailed instructions on the support site. The support site is accessed through the client user name and password.
Ellington is hosting three webinars for current customer the week of April 30th. Contact Ellington Support for information.
Current customer?
Contact us at
866-454-5772
or support@ellingtoncms.com
If you wish to learn more Ellington Marketplace product:
Contact Ellington CMS Sales.
866-454-5774
or sales@ellingtoncms.com