Mediaphormedia is pleased to announce the release of a helpful new feature for Ellington CMS: NITF import logging. This will be a welcome update to Ellington CMS clients who currently utilize the NITF Importer.
If you're currently using the Ellington NITF import feature, the new NITF logging app will be a valuable tool. The new logging app will provide information about every file that you upload.
Ellington's Daily Content Importer (DCI) may be used at any point during or after implementation to support a seamless publishing workflow from print-to-web. The Ellington DCI is a script built to import Story content and attributes from a commercial print publishing system, such as Saxotech, Mediaspan, Baseview, and ALS. Ellington supports importing of news stories in industry standard NITF format.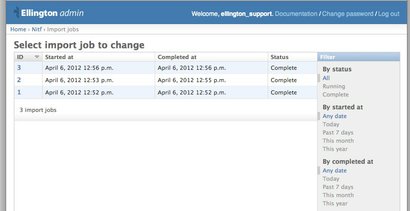 Clients may find detailed information here on the support site.