Mediaphormedia is pleased to introduce a new feature for Marketplace: Embedded Twitter Feed.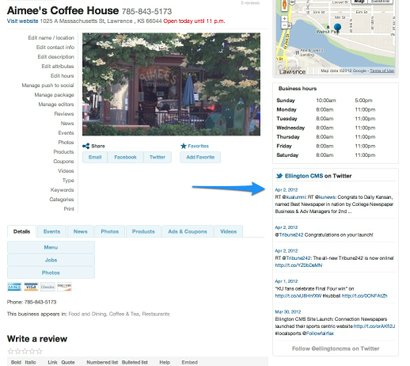 Marketplace specializes as the social media hub for Marketplace Business Owners. MPM continues to look for new ways to connect the social tools used by our Business Owners and innovate features to be showcased on the Business profile page.
The Embedded Twitter Feed displays recent tweets from the Business's Twitter account on the Marketplace Business Profile. In addition, there is a link so users can 'follow' the twitter account listed by the business. The Twitter Feed is part of Package Features.

Ellington Business Partners can review the feature details on the support site.
If you have any questions about the feature or your supports site login, please contact Ellington at:
support@ellingtoncms.com
1-866-454-5772