Obituaries often have the highest page views. Many people read them because they like to see how people lived their lives or to stay in touch with their community. MPM has enhanced the Obituary application to give our partners improved tools to showcase these life stories.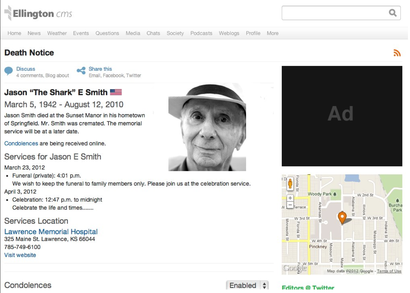 The new enhancements offer the ability to post multiple obituary types including: Obituary, Death Notice, and In Memoriam tributes. Each obituary object includes selections to identify Veterans, add Funeral or Viewing service types, link the service to a place using Ellington Places model, post service times and dates, include images, and link to an external condolence page.

Daily Obituary notifications, using the Ellington Alerts framework can be sent automatically to subscribers via text or email.

Ellington CMS Partners can check the support site for complete documentation. If you are having trouble with your user name and password, please contact support at:
support@ellingtoncms.com
1-866-454-5772