Thursday, October 6, 2011
Mediaphormedia announced today a number of new features and enhancements to their market-leading user generated content tools in Ellington CMS. This release includes UGC (user generated content) Photos, Activity Streams, and Activity Stream Email Preferences.
UGC Photos allow users to post photos within comments or blog entries and access their photos on their user profile. It is also be possible for staff members to select user photos for story inlines or to create photo galleries of user submitted photos.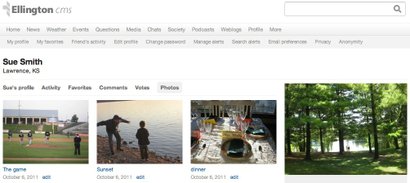 With these enhancements, it is possible for staff members to select user photos for story inlines or create Photogalleries of user photos. If you are a client, you can check UGC photo details on our support site.
Ellington's social applications allow users to connect with each other on the site by "following" users. The New Activity stream feature will allow users to follow the interests of their friends in a more detailed and streamlined fashion. Users will be able to view an activity stream that details their actions on the site and that of their friends. They can customize email notifications to be alerted for only the actions they are interested in. Clients can review New Activity Stream on the support site.
Using Ellington's upgraded Moderation tools, publishers can closely monitor UGC but still allow users to participate on their sites in a dynamic fashion.
Ellington CMS continues to be a leading force in building tools to drive Community Engagement on the web. Allowing site users to participate in generating content for news sites, is the motivating force behind creating technologies that will give users the ability to publish their own content. This release is part of a series of Community features Ellington continues to develop and innovate around. Stay tuned for more features in the coming months.