Originally published October 6, 2011 at 3:22 p.m., updated October 6, 2011 at 1:07 p.m.
Mediaphormedia introduces the release of advanced Moderation and Flagging tools for Ellington CMS, made available today along with user-generated content enhancements including UGC Photos, Activity Streams, and Activity Stream Email Preferences. Together these enhancements improve Ellington CMS' publisher and user features further, enabling publishers to serve their communities in much richer, more engaging ways. Publishers can feel confident they have industry leading moderation tools to manage their communities with.
The Moderation Queue enables staff to evaluate user-generated content prior to it being live on their website. Likewise, if publishers wish to keep an eye on new users, they can send the initial comments each user posts into a queue for moderation. Staff moderators can then review moderated content on the Moderation Queue page quickly and easily. All content created by "moderated" users will go into the queue before reaching the site, allowing publishers to approve all content by users they wish to moderate.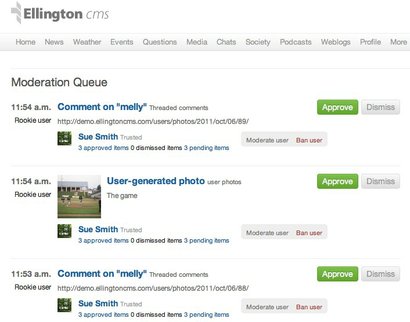 The moderation tools are highly configurable to suit moderation scenarios publishers have or would like to establish. Publishers determine their own level of involvement. For instance, they can start out with all site users being "moderated" and allow individual users' to be unmoderated, or they can have everyone start out as "trusted" users and add only users they specify to their "moderated" queue. A trusted user's content goes live immediately and does not go into the queue for moderation. Our Enhanced Flagging tools enable staff to see how often an object, such as a comment, photo, or blog, was flagged and then moderate both the comment and the user in a single action. User and content management is a much easier, much more powerful process with Ellington CMS' new moderation features.
Clients may review details on Moderation Queue here.